Sample Poems
Beneath Whites Stars: Holocaust Profiles in Poetry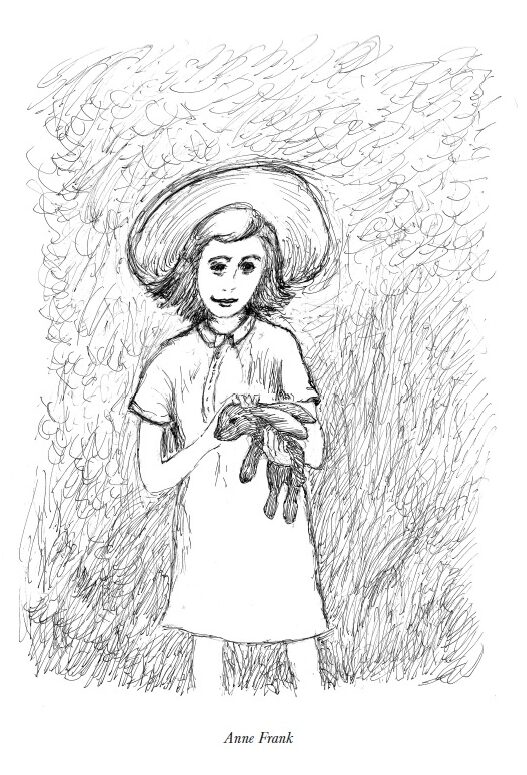 At Amstelrust Park in Amsterdam Anne Frank
(in photograph dated June '38)
stands beneath trees with sunshine as spotlight,
light summer dress, wide-brimmed hat for shade.

Posed for a shutter, the shining eyes smile—
birthday or outing her parents had planned?
She cradles a dark rabbit close to her body,
feeling its heart beat in her hand.

One palm supports the gentle young creature,
the other hand ready to touch its small face.
Guarded and gauging, the rabbit relaxes
its vigilant ears as it rests in its space.

Immured, though moving in stillness, Anne
with cruel sleight of hand is removed from her ground
where she stands—silent, captive in Amsterdam Annex,
betrayed to the hunters. I hear her heart pound.
Pausing near the railroad tracks,
Norbert Wollheim, on a teachers' trip,
sits at Auschwitz,
looking back.
Through his mind pictures whip
welded by I. G. Farben's grip,
and retells history,
details, facts:
partings, factory metalwork,
hangings, shootings, betrayals, fears,
shadows where the sadists lurk,
barracks, comrades, brothers, peers,
heads held up
above the jeers,
birth dates changed as der Blockschreiber, clerk.
He recalls debarking from the train
when his family arrived
and stands where commands of Cain
left him forever twice deprived—
his wife, his son, just he survived,
a daily
dose of pain.
Ready to depart,
this gentle man recounts, relives,
teaches with a stalwart heart
the story that he freely gives,
says will and luck
are why he lives—
survival is no art.


der Blockschreiber: the barracks clerk, secretary, record keeper (German)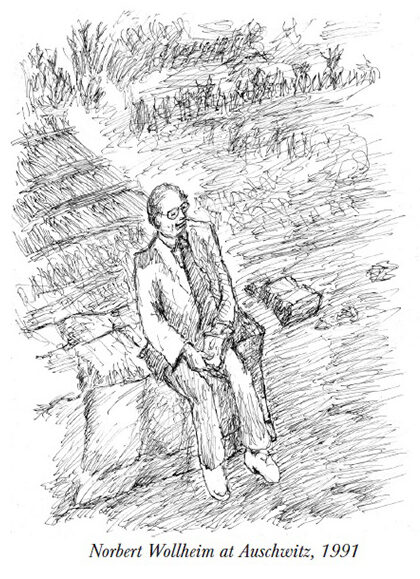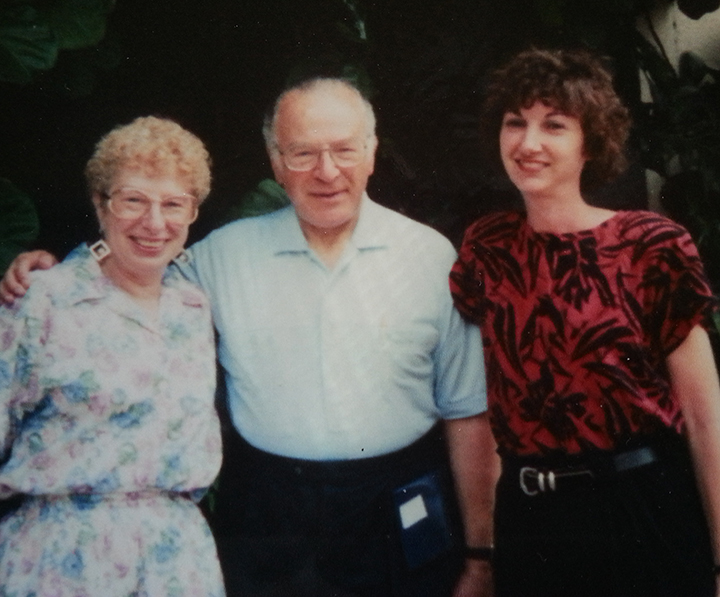 Norbert Wollheim (center), his wife Charlotte (left), and Holly Mandelkern (right) in Israel on the trip for teachers in Summer, 1991.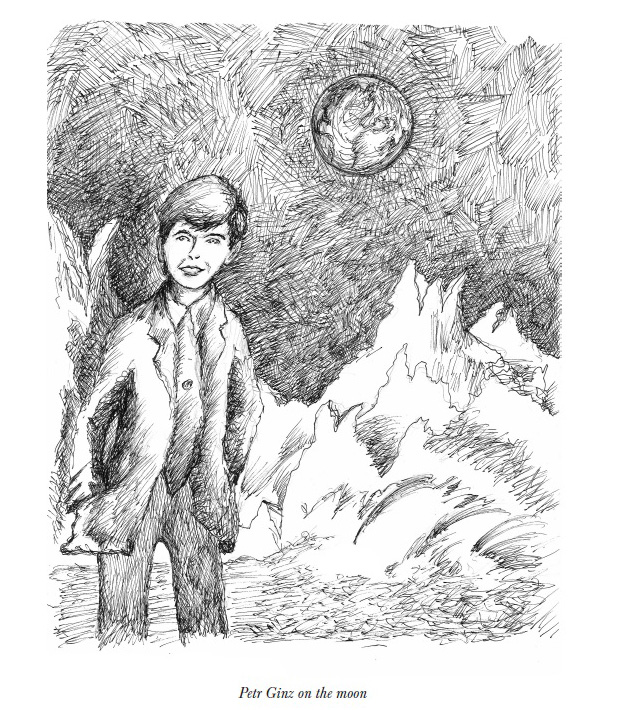 Well, I feel that we should always put a little art into what we do. It's better that way.
—JULES VERNE, From the Earth to the Moon
Young da Vinci.
Petr Ginz, number 446,
leaving Prague on a forced trip,
22/October/42, night,
on an unnamed transport
to Theresienstadt,
packed his bags,
kept a mental log
of his ten-kilogram limit (rather light):
tools to illustrate his book
on wizards and mountains (a manuscript),
paper, endpaper, thin leather to bind,
his Jules Verne favorites
left behind.
He took a few broken watercolor paints,
linocut knives for rockets, ships.
With woodcuts he saw the same
arches,
planes,
curves,
calm lines.
His precious suitcase
he hoped to find.
Petr Ginz, 1880 his number,
forced on a trip
to unfamiliar parts,
28/September/44,
no provisions for food
or slumber,
calmly left Theresienstadt.
He knew this world
through how they swore
but drew world maps,
Moon Landscape,
charts.
Linocut knives
had schooled his heart.
He traveled far through Jules Verne's art,
his own journeys now cut short,
a private universe
left behind.
Waiting for him to board the train,
sister reached to touch his hand
that now held two pieces of bread,
nothing for his piercing mind.
_____________
Petrginz,
asteroid 50413,
named by two astronomers (Czech),
orbits the sun every four-plus years—
(golden asteroids, Verne's frontiers)
arches,
arcsecs,
apogees,
planes,
calm lines,
curves,
degrees,
lines in space—
Petr's spheres.