Beyond Beneath White Stars:
Guides for Teachers, Students, and Readers
Reflections: A Complete Guide to Beneath White Stars
This cover-to-cover guide for teachers and serious readers includes discussion questions and the author's reflections for every poem in
Beneath White Stars.
Also included are
questions and themes addressed in each chapter.
Selected Poems and Songs from Beneath White Stars:
 

A Companion to Elie Wiesel's Night
Four poems with themes similar to those in Night introduce, reinforce, or serve as a prelude to Wiesel's memoir. Each poem has commentary and questions that make the connection to Night, and an additional poem pays tribute to Elie Wiesel.
Writing Poetry based on Beneath White Stars: Activities for Secondary Language Arts and Social Studies Students
This guide provides ways to use Beneath White Stars to encourage students to write original poetry: found poems from prose, poems using words from poetry in the collection, poems inspired by questions from the book, and a host of other activities.
A Portrait in Poetry: Writing from the Testimony of Roman Kent
Holly describes writing poetry based on survivor Roman Kent's experiences before, during, and after the Holocaust. The article features her writing process and suggestions for writing in the classroom.
The article appeared in Yeshiva University's
Prism: An Interdisciplinary Journal for Holocaust Educators, Spring 2016,
pages 74-79.
What Educators Are Saying About Beneath White Stars
"'History and poetry lean on each other.' Beneath White Stars: Holocaust Profiles in Poetry is a powerful hybrid text that brings two genres, history and poetry, into conversation. As a mentor text, this book will inspire students to explore the process of 'writing into' history. And the stirring songs on the album Beneath White Stars: Holocaust Profiles in Song reveal the messages of the poems—and the lives that they honor—in a fresh way. These poems and songs make the history of the Holocaust accessible, edifying, and deeply human for students. I can't wait to see how educators, from middle school to college, utilize these written and musical works to give students the courage and confidence to explore the difficult history of the Holocaust more extensively and in new ways."
Jeff Byrd
Editorial Director, Heinemann, a division of Houghton Mifflin Harcourt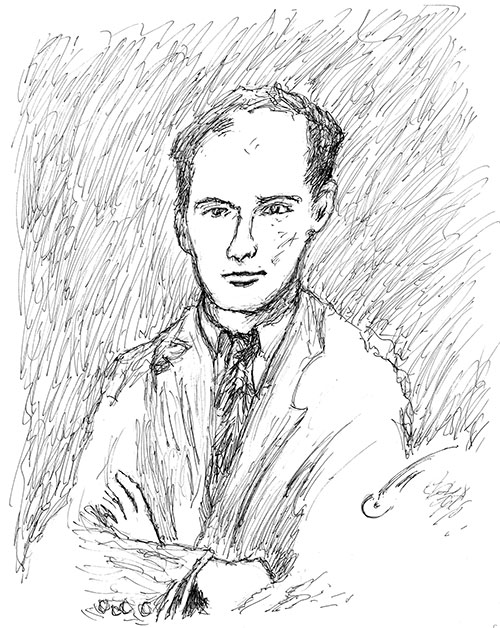 Rescuer Raoul Wallenberg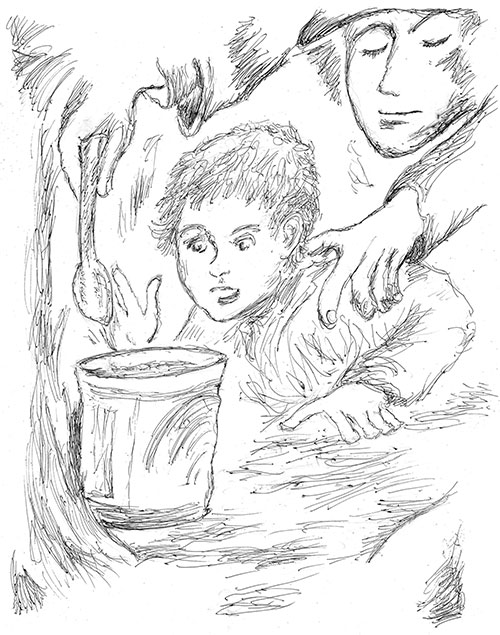 Children eating soup in the ghetto
"The songs in Beneath White Stars with their multiple voices, instruments, and emotions, have proved to be stimulating additions to my Honors undergraduate seminars on Creativity and Narrative. Offering highly personal, insightful accounts of the Holocaust, the music renders these miniature biographies memorable and well adapted for sustained, critical reflection and poignant inspiration. These songs are at once memorials and catalysts for creatively contemplating the lives they represent.
My students have read and listened with interest to Beneath White Stars, a springboard for engaging with important questions of how creative storytelling about the past can profoundly alter our present perceptions and attitudes. This is a treasury of song that invites relistening. I know I'll be returning to Beneath White Stars with my students."
Tyler Fisher
Professor of Modern Languages and Literatures Burnett Honors College, University of Central Florida
"One of the challenges of Holocaust education is to help students to understand the complexity of the events while also making their learning personally relevant. Teachers must craft learning experiences that foster social and emotional growth in addition to cognitive development. One of the most effective ways to do this is to use multi-sensory modes of presentation.

Holly Mandelkern understood this challenge when she wrote her book, Beneath White Stars: Holocaust Profiles in Poetry. Holly's poetry focuses on uplifting personal stories of survival, resistance, rescue, and human dignity. She wisely chose to couple her beautifully crafted language with moving illustrations and set them in chronological and historical context. The result was stirring and memorable, engaging students academically as well as emotionally to develop empathy and to learn the transformative power of respectful, caring behaviors. 



Adding music to poetic expression is a natural extension of this strategy. Holly has now partnered with musicians to create Beneath White Stars: Holocaust Profiles in Song. In this new endeavor, seventeen of Holly's poems have been transformed into songs with a unique ability to inspire. Featuring a classic folk music sensibility, these musical selections combine the urgency of historical and social awareness with the timelessness of melodic and lyrical beauty. Teachers and students who engage with these songs will have a meaningful social/emotional learning experience that honors and memorializes those who fought for their lives and the lives of others."
Mitchell Bloomer
Holocaust educator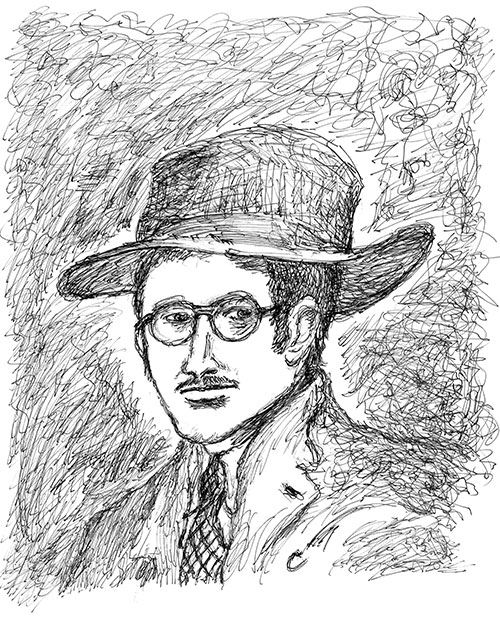 Yiddish poet and partisan Avrom Sutzkever
"Holly Mandelkern's poetry goes to the heart of the Holocaust. Historical context and original illustrations accompanying her poems provide a unique and valuable resource for Holocaust students of all ages."
Harriet Sepinwall, EdD
Professor Emerita, College of Saint Elizabeth Center for Holocaust and Genocide Education, Morristown, NJ
"The imagery and word pictures of the poems in Beneath White Stars soar up to the realm of the imagination, while the 'Lost and Found' history sections ground the reader in the history of this tragic period. The profound text, coupled with evocative illustrations, makes this book accessible to young readers as well as a general or scholarly audience. Highly recommended. "
Daniel A. Reich
Former Curator & Director of Education Holocaust Museum and Learning Center, St. Louis
"Lakeview High School Library has been pleased to add Beneath White Stars: Holocaust Profiles in Poetry to its collection and highly recommends this book for the classroom. Holly Mandelkern's work is beautifully written and illustrated. This is an outstanding addition to Holocaust literature and a valuable teaching resource to which students will readily relate!"
Margaret Lincoln, Ph.D.
Lakeview Schools District Librarian, Battle Creek, Michigan
"Holly Mandelkern's poems and historical backgrounds powerfully reflect upon accounts of tragedy and triumph and impart the incredible power of an individual's actions in the face of terror. After sharing her poems with students in my 'Holocaust in Literature and Film' course at Tulane University, I highly recommend her collection to educators and students at the secondary and university levels."
Marty M. Mullins, PhD
Research Associate, John Jay Institute, Philadelphia
"Thank you for putting this astonishing work together. The words you have recovered and presented here are incredibly valuable, and the beauty and power of this volume is impossible to overstate. One of many remarkable things about the book is that, I think, it can provide a good point of entry for young people into learning about the Holocaust- a very challenging thing. Yet it is no less compelling to adult readers like myself."
Richards Plavnieks, PhD
Assistant Professor of History, Florida Southern College
"Beneath White Stars is more than just eloquent poetry. It's historic facts, gripping survivor witnesses, maps, event timelines, delicate illustrations, and personal reflections, which all serve to bring Holocaust education to light in a way as never before. The emotional, humanistic, and sometimes almost spiritual poems, most based on true lives and events of the Holocaust, touch the reader in a unique and powerful way. Read as an academic tool or for personal experience, this book is a treasure for everyone."
Nancy-Lee Thompson
Educator, Winter Park, FL
"The poems bring to life a chorus of varied voices portraying in fine, poetic fashion life's lessons in survival, recovery, and redemption. Through captivating illustrations and in the minds and hearts of the reader, these powerfully spiritual voices come to life, remain memorable."
Stephen Caldwell Wright, PhD
President and Founder of the Gwendolyn Brooks Writers Association of Florida Poet and Educator
"This remembrance of Holocaust victims and survivors is a stirring and emotional work. The poems inspire deep feeling in the reader, and they are matched by illustrations that give life and nuance to the stories they accompany. Overall, a profoundly moving and thought-provoking work."
Margaret Vickers
Language Arts Educator, Winter Park, FL
Workshop and Book Discussion Participants
"Making poetry and history come alive: Holly was the keynote speaker for our district in-service day for secondary ELA and Reading teachers. Her engaging manner and practical lessons for broadening the traditional way in which the Holocaust is taught inspired teachers both personally and professionally. As a curriculum specialist, I was extremely pleased with the content and delivery of the presentation.  Now it is my hope that Holly can reach social studies teachers to assist them in making history come alive through poetry."
Nancy Gray
Secondary ELA and Writing Resource Teacher Brevard Public Schools
"As social studies teachers, our biggest impact is through content area reading and reinforcing literacy instruction. Holly's workshop offers great insight and strategies for fusing literacy and poetry with content area reading. I can't wait to use poetry as a method to learn and study history!"
John
Lake County Public Schools
"Excellent workshop! Your heartfelt poems genuinely demonstrate your passion for the Holocaust victims. Thank you for sharing that compassion with us so that we may share it with our students."
Carrie
Seminole County Public Schools
"This workshop gave me a handful of great ways to incorporate the poetry writing process into my lessons. I am NOT a creative writer and I am leaving today with practical ways to ignite the creative writing spark in my students and myself."
Chereeka
Orange County Public Schools
"The personal stories Holly has brought to life through her poems and the historical narratives in this very sensitive treatment of horrific events during the Holocaust are made even more viscerally available in the haunting music made from the poems. Being well documented, Beneath White Stars is a work of both scholarship and art that we will remember."
Mary Nan Johnson
Retired American Literature Teacher
"Participating in book club discussions surrounding Holly Mandelkern's poetry in Beneath White Stars was a profound and moving experience. Holly provided wonderful insights into her creative process, while also sharing the stories and history of so many whose lives were dramatically impacted by the Holocaust and who provided the inspiration for her poetry, music and lyrics. The result was a fascinating, in-depth look into the courage and struggles of these outstanding people, who should never be forgotten."
Burr Anderson
Member of St. Richard's Episcopal Church, Winter Park, FL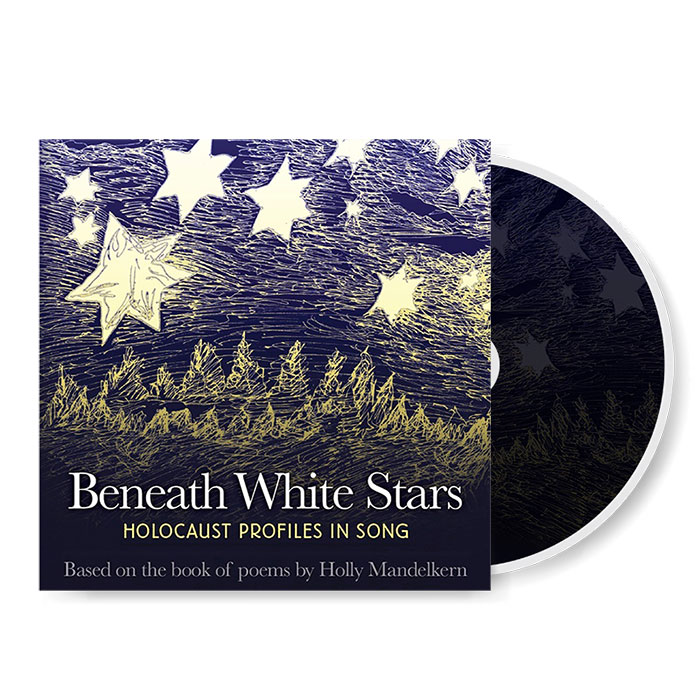 Beneath White Stars: Holocaust Profiles in Song
is collection of seventeen ballads and folk songs telling stories of survival, resistance, and rescue during the Holocaust. Based on the book of poems by Holly Mandelkern.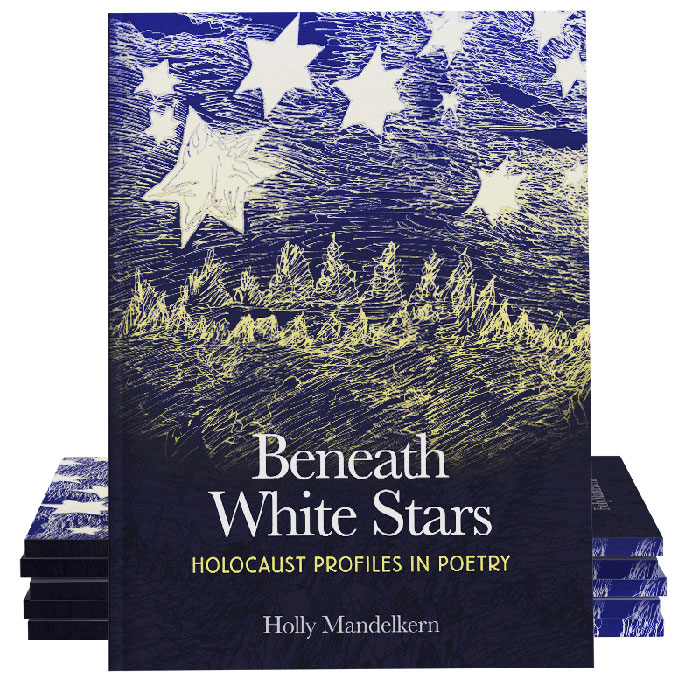 Beneath White Stars: Holocaust Profiles In Poetry features Holly's narrative poetry about real people from the Holocaust whom she has known personally or whose stories she has taught. Melding historical detail and keen insights with the grace of poetry, she brings to life a wide variety of individuals struggling against the horrors of the Holocaust.